Welcome to Teacher

Miss Rachel's Little Llama Kindergarten!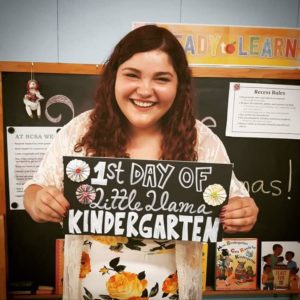 This is Rachel's third year at NCSA and she could not be more overjoyed to be a part of such a wonderful community of parents, educators, and students. Rachel holds a Bachelor of Arts in Liberal Studies and a Multiple Subject Teaching credential from William Jessup University. Within the program, she spent time student teaching within Kindergarten, 1st, 2nd, and 3rd grade classes primarily. Before pursuing teaching, she spent four years working at a Girl Scout summer camp in the Sierra Nevada Mountains, including positions such as unit counselor, unit leader, and program director. This ingrained her love of working with children and built within her, a desire to see all children flourish with excitement in a learning environment. In her free time, Rachel continues her work with Girl Scouts (6th year), loves to attend and take part in performing arts events, attends local community events, hikes, goes to the river, spends time with her family, travels, and goes to coffee with friends. She will be spending this upcoming summer at a Girl Scout Camp near Nashville, Tennessee!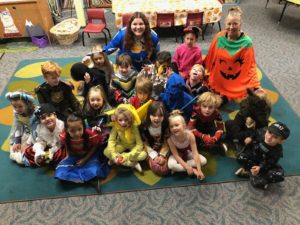 Welcome Letter/Supply List | Download
In Kindergarten we strive to develop a community of kindness. Our day is from 8:30 am till 2 pm. There are 20 students in our class. We start our mornings off with singing, daily gratitudes, and calendar time. Then we work on important language arts skills, such as rhyming, letters and their sounds, reading, and writing in a workshop model which enables students to work at their varying levels. After our literacy time, students will have snack, recess, and an elective. Our electives include art, movement, music, and science. Then, we transition into math, working on foundations math skills such as number formation, counting, adding, shapes, etc. In the afternoon, we have lunch, outdoor play, storytime, mindfulness, indoor choice time, and then we end the day with some more time outdoors, before pick up.
Science and Social Studies are taught in themes, woven throughout the year:
In the Fall, we will learn all about friendship, and celebrate the similarities and differences between us. We will have a "Special Persons Day," inviting someone who is meaningful to us to share pie and a small in-class performance. We will become engineers and participate in a variety of STEM activities. We will also learn about plant growth and attend a field trip at Food, Love Farm. Finally, we will plant tulips and look forward to seeing them bloom in the Spring!
In the Winter, we will learn about other cultures' traditions, celebrations, and lifestyles. We will also learn about the water cycle and become weather watchers. Finally, we will learn about hibernating forest animals. We will take a trip to the Mud Hut to make our own winter mugs for a hot cocoa party!
In the Spring, we will learn about the habitat of forest animals, by exploring trails on site! We will learn about and witness the life cycles of frogs and butterflies. We will celebrate Earth day and learn about ways we can take care of the Earth. Our tulips will bloom, and we will take a trip to see local flowers & butterflies! We will also learn about force & motion through fun experiments, such as building ramps and Goldberg machines. Finally, we will take a trip to the library and Rood Center to see our art on display!
At the end of the year, we will have a Kindergarten Musical Production & Portfolio Night to celebrate all of our hard work!
Fall
Friendship

Golden Rule

Van Gogh Sunflowers

Pumpkins

Ourselves and Our Families

5 Senses

Apples

Thankfulness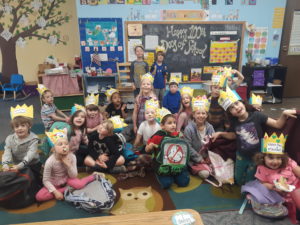 Winter
Weather

Water Exploration (Solid, Liquid, Vapor)

Arctic Animal Study of Alaska

Martin Luther King Jr.

Gift Giving

100th Day of School

Valentine's Day- How can we love one another?
Spring
Farm animals

Growing seeds

Caterpillars, frogs and eggs

Author study: Eric Carle

Sharing our portfolios.
Save
Save
Field Studies/Events for this class:
Bierwagen's Pumpkin Patch $ 10
Food Love Farm $ 5
As If Studios $ 15
Kinder Play $ 3
Folsom Zoo $ 8
Train $ 3
Total= $44.00
Field Study Payment Plan Selection: