Welcome to Audra Hoyt's  7 th grade History and 8th ELA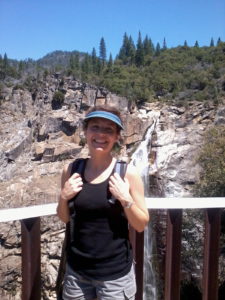 Hi! My name is Audra Hoyt and I am excited to be teaching 7th-grade History and 8th-grade ELA. This year in History we will become detectives as we uncover the mysteries of the Medieval and early modern world. Using primary sources, we will cite evidence in our historical interpretations. Through hands-on projects, simulations, discussions, and debates we will explain the rise and fall of world empires, the spread of world religions, and the increased interconnectedness of peoples and technology. In 8th grade Language Arts we explore arguments. Listening, reading, and identifying arguments will help prepare students to write their own. In-class debates and speeches will equip students to logically form and defend their opinions. In addition, we will read both fiction and non-fiction to help make us better readers and writers.
A little about me…
I was born in Alaska but grew up in Chico, CA. I earned my BA in History from Chico State and then my Master's Degree in Applied Historical Research from Boise State (go BSU Broncos!). I have a Clear CA Teaching Credential in Social Science with a supplement in English. This will be my twelfth year of teaching but my fourth at NCSA.  When I'm not planning lessons, I enjoy hiking, camping, and reading. I look forward to meeting you all!
7th Grade Supply List | View
Local Field Study Permission Slip | View
Save
Save
Save
Save
Save
Save
Save
Save
Due to COVID 19 NCSA will not be taking field trips for the 2021-22 school year.
No Field study payment is necessary at this time.
7th Grade Field Studies/Events for this class:
Camp Augusta $ 29
Crocker $ 1
NU Play $ 5
Ashland $ 269
Total= $304.
7th Grade Field Study Payment Plan Selection: