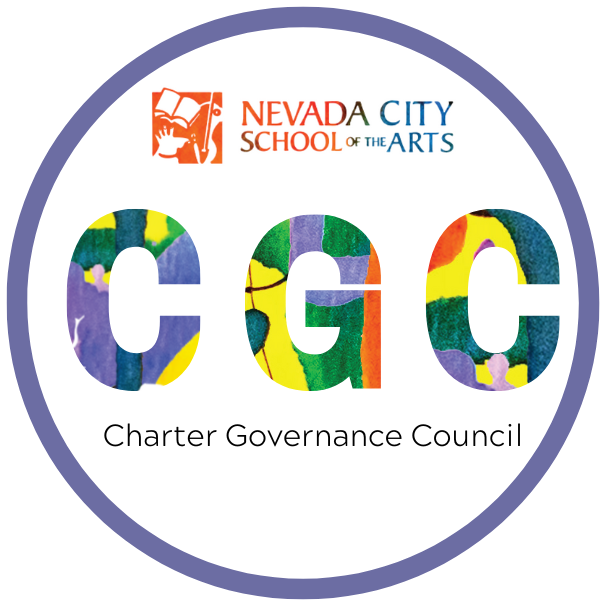 The purpose of the Charter Governance Council is to govern the Nevada City School of the Arts in accordance with its school charter.  In turn, the school charter conforms to all provisions and requirements of California State charter school law.  NCSA utilizes the "Policy Governance" model to manage the school.
"Policy Governance®, an integrated board leadership paradigm created by Dr. John Carver, is a groundbreaking model of governance designed to empower boards of directors to fulfill their obligation of accountability for the organizations they govern. As a generic system, it is applicable to the governing body of any enterprise. The model enables the board to focus on the larger issues, to delegate with clarity, to control management's job without meddling, to rigorously evaluate the accomplishment of the organization; to truly lead its organization."
Nevada City School of the Arts End Policies
Nevada City School of the Arts exists so that students, families, staff, and the greater community have:

an arts-based choice for elementary education.




an educational institution that facilitates academic,




artistic, and social-emotional achievement.




a collaborator and contributor to the greater community.




safe, respectful, and equitable conditions for learning and

working.
___________________________________________
The CGC consists of a minimum of 5 and a maximum of 9 members, all nominated by the CGC.
Board Members
LeeAnne Haglund, Board Chairman
Lauren Hesterman, Vice-Chair
Meshawn Simmons, Treasurer
Abby Oas – Secretary
Trisha Zakon
Qayyuma Didomenico
Andrew Todd
Jaylee McGregor
Jon Lefeber
If you have questions or concerns please contact our CGC Board Chairman at boardchair@ncsota.org 

Governance Council Agendas

2023-24
September 21, 2023 – Building 3 – Director's Office
October 3, 2023 Intensive – Building 3, Room 304
October 26, 2023 – Building 3, Director's Office
November 16, 2023 – Building 3, Director's Office
December 14, 2023
January 25, 2024
February 15, 2024
March 21, 2024
April 18, 2024
May 30, 2024, LCAP
June 13, 2024
Nomination and Recruitment Committee Meetings
2023-24
Finance Committee Meetings
2023-24
October 25, 2024, via Zoom
November 15, 2023 via Zoom
Nevada County Charter Service Authority Agendas
October 12, 2023 at 9:30 am – 13024 Bitney Springs Rd., Nevada City (JPA conference room)
Community Advisory Council
October 14, 2022 at 2:00 pm – Virtual Meeting
November 10, 2022 at 9:30 am – Virtual Meeting
December 8, 2022 at 9:30 am – Virtual meeting
January 26, 2023 at 9:30 am – virtual meeting
Save
Save
Save
Save
Save
Save