NCSA Makers Market this Friday!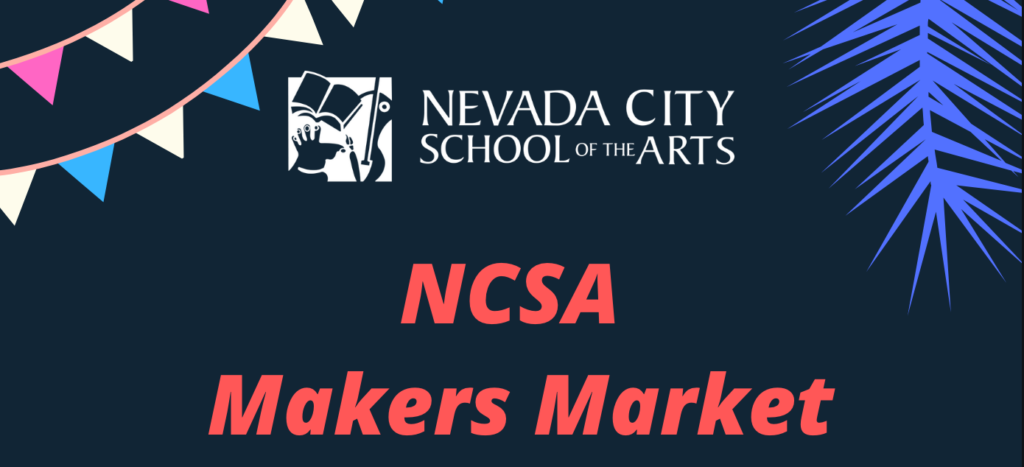 Makers Market
Join us this Friday for our very first NCSA Makers Market!
Community, crafts, goodies, and local makers!
After school Friday in the building 4 parking lot.
1pm-4pm
There will be One of a kind wearable art jewelry & fashion accessories, Tie-dye,
It's not to late to grab a booth!
Sign up here:
Who's going to be there….
Zarjo
~ One of a kind wearable art jewelry & fashion accessories
Finn & Finch Designs
~ I make unique laser cut earrings, fun laser cut signage and custom silicone mermaid tops.
Nature's Cafe
~ Prepackaged organic artisan seasoning mixes and rubs, made in small batches
Nevada County Native Plants
~ Native plant nursery stock
Counter culture
~ Tie-dye/local handmade clothing
Nevada City Scenics
~ Calendars, prints, paper goods, gifts for the home
Five Flavors Herbs
~ Herbal tinctures, salves, oils, teas, and yummy treats
Silverfox Fursuits
~ Special order fursuits
Birth and Beyond Doula
~ Elderberry syrup
Bowerbird Design
~ Home Goods, Art, Crafts, Snacks
Penstock Meadery
~ Medicinal Meads
Sue's succulents
~ Succulents of all sizes and shapes!
Spiced
~ Chai, iced tea, sweet and savory hand pies
Make Good Studio
~ Paintings, jewelry, vintage
Catherine Brown
~ Holiday crafts
Farmer Josh Sauce ~ Hot Sauce
Phoenix Rising Designs ~ Kids Clothing of our own design and maybe homemade Granola and Ghee.
vlatka varga
~ jewelry, copper enamel vessels, spoons