Nevada City School of The Arts accepting applications for the 2021/22 school year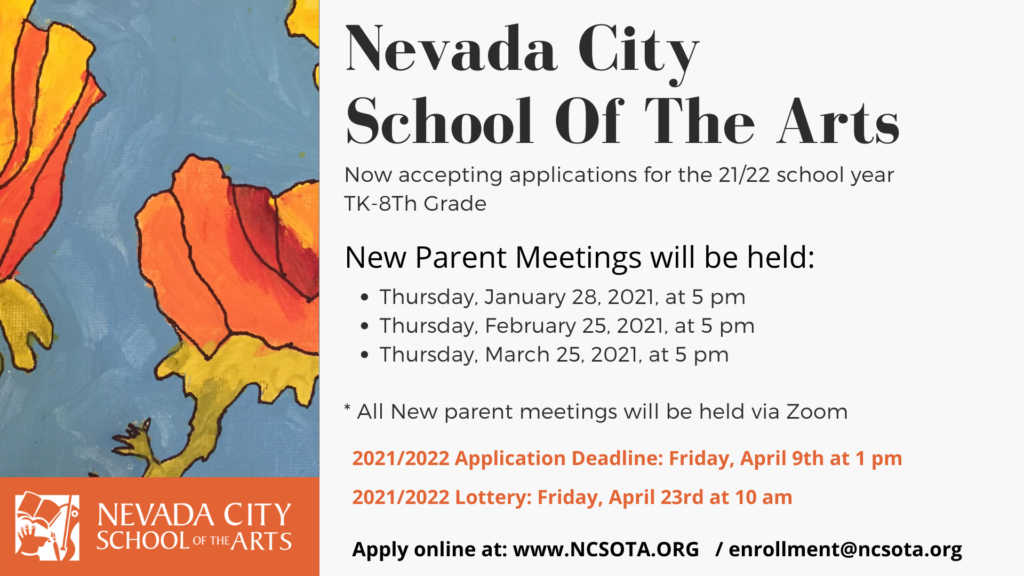 January 5, 2021 – Nevada City School of The Arts (NCSA) is now accepting applications for the 2021/22 school year. NCSA is a public charter school serving Transitional Kindergarten-8th grade students throughout Nevada County, California. The shared vision of our school is to provide a rigorous academic environment using art as a lens to shape the curriculum. Our campus is nestled on 150 acres on Bitney Springs RD in Nevada City.
NCSA is committed to creating a school culture where all members of different gender identities, sexual orientations, religions, races, ethnicities, and physical and developmental abilities are welcomed, valued, and celebrated. We are dedicated to proactively identifying and addressing biases, practices, policies, and institutional barriers that perpetuate injustice and inequality in our school. Anti-racist and anti-oppressive practices will be guideposts that allow us to consistently reflect on our policies and curriculum ensuring they are promoting equity and representation for all students. In doing so, our goal is to foster the development of positive identities for all students, promote their abilities to build productive and genuine relationships with people across differences, and work towards ensuring equal access to opportunities and achievement for all students. We want our students to be able to understand stereotypes and their counternarratives, along with systems of oppression, and learn how to intervene and interrupt injustice when confronted with it. We believe that all our lives are enriched when communities are equitable and inclusive.
Parents interested in enrolling a child into NCSA are invited to attend one of our New Parent
Information Meetings.
● Thursday, January 28, 2021, at 5 pm
● Thursday, February 25, 2021, at 5 pm
● Thursday, March 25, 2021, at 5 pm
** All New parent meetings will be held via Zoom (Link will be posted on our website the day of the meeting)
Apply Here: www.ncsota.org/steps-to-apply-to-ncsa
*2021/2022 Application Deadline: Friday, April 9th at 1 pm
*2021/2022 Lottery: Friday, April 23rd at 10 am
Nevada City School Of The Arts
13032 Bitney Springs Road Bldg. # 8
Nevada City, CA 95959