No Summer Slide
Dear NCSA Families,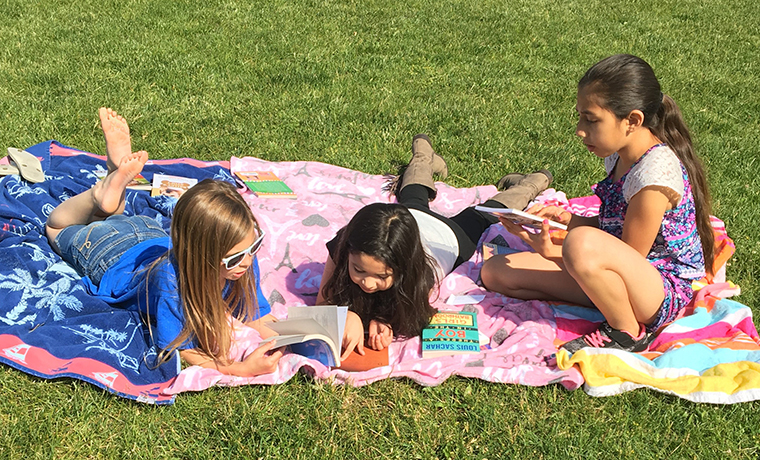 One of my favorite things about the summer is the fact that there is more light to read by, and with fewer activities to rush off to, we also have more time to play games.  I like to keep my boys doing scholastic things to help prevent the dreaded 'summer slide.'
As summer starts this year, my family members will each write a plan for what they hope to read alone, and we will each pick a chapter book we want to read aloud together. Yes, even at 16 and 13, we still manage to read aloud together. We thoroughly enjoy reading aloud together on our camping trips.  The books we read as a family while camping stick in our memory more than at other times of the year.  Remember that 'ear reading' from audiobooks is another great way to read together.  Ms. Katie (NCSA's beloved Reading Specialist) loved audiobooks on her summer road trips when her boys were younger.
When my boys were younger, I had them write at least five sentences each day (make this age-ability appropriate and fun).  This summer, I'm adding to that writing goal making it more in-depth for their ages.
Every week we love to learn a new vocabulary word. When they were still writing sentences, they attempted to use the vocabulary word as naturally as possible in their writing.  When speaking, we will work to use the new words.  Doing these activities will strengthen their skills and keep them comfortable having a pencil in their hands.
Finally, we play a lot more games together during the summer.  We enjoy all sorts of games, from words to numbers, logic to goofy. Playing games builds counting skills, strategy, understanding of cause and effect, cooperation, and how to win honorably and lose gracefully.  The most important reason I have to play games with my kids is to spend time together.  Spending time playing games will support conversation and teach friendly competition, all while actively engaging with one another.
Nevada County Summer Learning at the Library kick-off event is on June 22.  This program is through Nevada County Library.  Be sure to check it out.
Remember to prevent 'summer slide' and to make coming back to school in August smoother help your child by playing games, reading, and writing about any topic. Make a reading nook around your house; put up a hammock, pop up a 'reading' tent in your yard, build a fort, and read on!
On the NCSA website, I've included my book nook list from the school year for you to reference as your family chooses books to read this summer.
I hope you enjoy playing as a family this summer.
Enjoy,
Ms. DeFeyter