Building character
Last week I celebrated becoming the mother of a teenager, and with that comes new opportunities to learn and stretch my parenting.  I'm expanding my growth mindset as I begin to navigate this new stage, keeping positivity at the forefront.
Building positive character traits in my children has been of great importance to me on my parenting path and at each stage of development comes new opportunities to add to those teachings. It has been a top priority for me to teach my children the importance of accepting responsibility for their behaviors and choices.  There are two ways to accept responsibility; direct and indirect. Accepting direct responsibility is taking ownership of your behavior and the consequences of that behavior. Taking indirect responsibility involves moving beyond yourself and taking action to help people or situations around you that call for assistance.  Both types are critical in building a strong character.
Until your child can accept responsibility for her/his actions, it will be challenging for them to develop self-respect or even have the respect of others. Not taking responsibility can cause more pain in the long run, having a devastating effect on the mind and heart.  I hope for the sake of giving your children great opportunities as they grow you'll join me in teaching them to take ownership of their actions. The nook this week offers articles for parents on building character, and books for kids to read about responsibility.
Happy Reading,
Angie Maxson-DeFeyter
Articles for Parents
How to Teach Kids to Accept Responsibility for Their Actions
Encourage your kid to stop the blame game and start accepting responsibility.
7 Character Traits Every Young Adult Needs to Succeed
There is great importance in building character and the younger we start teaching our kids these traits the better opportunities they will have and happier lives they will live.
20 Good Character Traits That Will Help Your Kids Grow Up to Be Happy, Successful and Loved by All Written by Vibha Sharma  From the Building Character Series. This includes a 2-minute action plan for parents.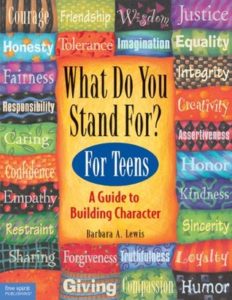 Books for Young Adults/Teens
What Do You Stand For? For Teens by Barbara Lewis
"Young people need guidance from caring adults to build strong, positive character traits—but they can also build their own. This book by the best-selling author of The Kid's Guide to Social Action invites children and teens to explore and practice honesty, kindness, empathy, integrity, tolerance, patience, respect, and more." Goodreads
Books for K-5
What Do You Stand For? For Kids: A Guide For Building Character by Barbara Lewis
"Even elementary school children can build positive character traits like caring, citizenship, cooperation, courage, fairness, honesty, respect, and responsibility. The true stories, inspiring quotations, thought-provoking dilemmas, and activities in this book help kids grow into capable, moral teens and adults. Previously titled Being Your Best, this award-winning book has a fresh new cover and updated resources" Goodreads
My Mouth is a Volcano! By Julia Cook
"My Mouth Is A Volcano takes an empathetic approach to the habit of interrupting and teaches children a witty technique to capture their rambunctious thoughts and words for expression at an appropriate time." Goodreads
Baditude! What to Do When Life Stinks! By Julia Cook
"Join Noodle as he learns to turn his "I have to's" into "I get to's," his frown into a smile, and his "badtitude" into "gratitude"! This is the 2nd title in the Responsible Me! Series." Goodreads
Your Magnificent Chooser by Ortberg
"The choices we make play a large part in forming who we grow to be as adults. For kids, those choices can include whether to be obedient or disobedient, to share or be selfish, to have a good attitude or not, and more. This book addresses the ability to choose" Goodreads
Responsibility Specific: K-5
Alexander Who Used to Be Rich Last Sunday by Judith Viorst
The Paperboy by Dav Pilkey
Pigsty by Mark Teague
Strega Nona by Tomie dePaola
Train Your Dragon to Be Responsible by Steve Herman
Teaching children how to take responsibility for their choices.