Anxiety
Happy New Year!
I hope you found plenty of cozy reading time with your child and for yourself over the winter break, I sure did!  If you took the 18-day challenge I sent out before the winter break, be sure to let me know how you did.
As Mrs. Pettitt wrote in her email, often times children experience anxiety when returning to school after a long break.  In fact, "The number of children diagnosed with anxiety has increased in recent years. More than 1 in 20 US children and teens have anxiety or depression." -Science Daily.  When a child suffers from stress and anxiety, we want to support them in discovering ways that they can help themselves to be more at ease. Following are a few websites with books on the subject of coping with stress and anxiety.  I have also included my favorites to read to my children and students.
Some of my favorite books on anger are by Gail Silver.  She wrote Anh's Anger and Steps and Stones: An Anh's Anger Story.  I always read these books to my students and my children.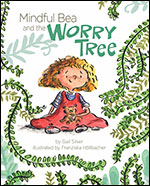 In April her book on the topic of anxiety, Mindful Bea and the Worry Tree, will be available in stores.  If it is anything like her other books about anger, it is a must-have.  It covers techniques to try to calm oneself. The book also includes a Note to Parents and Caregivers by Ara Schmitt, Ph.D., about how kids can respond to their anxious thoughts.
9 Things Every Parent with an Anxious Child Should Try By Renee Jain, Contributor to HuffPost and Chief Storyteller of GoZen! Anxiety Relief Programs for Kids
12 Books for Kids and Teens About Stress and Anxiety from the website Coping Skills for Kids offers excellent suggestions.
A few of my other favorite must-read books are; Peaceful Piggy Meditation, Moody Cow Meditates, both by Kerry Lee MacLean,  A Handful of Quiet:  Happiness in Four Pebbles, Planting Seeds: Practicing Mindfulness with Children, both of these by Thich Nhat Hanh, and finally Imaginations: Fun Relaxation Stories and Meditations for Kids by Carolyn Clarke.
May you find your way in supporting your child through stress and anxiety.
Sincerely,
Angie