Civil rights
Art Teacher, Samantha Jones, and I went to a
Teaching While White
conference in Berkeley, Ca. on Friday and Saturday. We did an exercise where we looked at a piece of art with a partner viewing it for "mirrors" into our lives and then windows through which to see what wasn't familiar to us.  These mirrors and windows are needed in education to help students connect to an idea as well as offer a view into other experiences.
Here are some books that may provide mirrors for your children who identify as white to see themselves reflected in civil rights history.   These books are valuable reads for everyone, but especially those looking to be allies. The books we found will hopefully encourage your child to find a place in today's world as an ally for people of color.
Sincerely,
Angie Maxson-DeFeyter and Samantha Jones
Books for Parents/Older Children:
The Wall Between by Anne Braden One of only a few first-person accounts from civil rights movement activists—even rarer for its author being white. Offering an insider's view of movement history, it is as readable for its drama as for its sociological importance. It contains no heroes or villains, according to Braden—only people urged on by forces of history that they often did not understand. -Goodreads
Why Eleanor Roosevelt's Civics Book for Kids is Making a Comeback by Victoria Pasquantonio PBS An interview with Eleanor Roosevelt's granddaughter
Popular White Allies Books on Goodreads
Books for Children in a Range of Ages:
She Stood for Freedom The Untold Story of a Civil Rights Hero Joan Trumpauer Mulholland by Angela Fairwell
Joan Trumpauer Mulholland was a white teenager in the South during Segregation who put herself on the front lines of the Civil Rights struggle.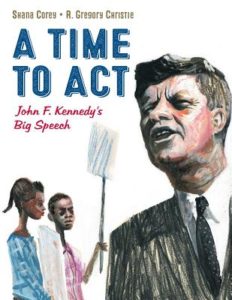 A Time to Act  Shana Corey John F. Kennedy's big speech
When You Grow Up to Vote by Eleanor Roosevelt and Michelle Markel Ages 6-12
A Case for Loving  by Selina Alko The Fight for Interracial Marriage
Separate is Never Equal: Sylvia Mendez and Her Family's Fight for Desegregation by Duncan Tonatiuh
She Would Not Be Moved by Herbert R. Kohl, Cynthia Stokes Brown, Marian Wright Edelman a timely and important exploration of how the story of Rosa Parks and the Montgomery bus boycott has been distorted when taught in schools. Hailed by the New York Times Book Review when it was first published as having "the transcendent power that allows us to see . . . alternate ways of viewing our history and understanding what is going on in our classrooms," (Chicago Tribune).-Goodreads
Books to Teach White Children and Teens How to Undo Racism and White Supremacy
The books on this list cover race, microaggressions, whiteness, activism, universal human rights, and understanding differences; mirrors and windows into life experiences.